Enhancing the Procurement negotiation toolkit

By
Fabian Lampe
·
1 minute read
Some say, negotiating is an art form. Negotiations are definitely at the core of Procurement and negotiation skills are a core competence for procurement professionals. And yet, training and keeping up with advancements in the space is not the norm. But without practice and training, you cannot master a craft.
Advancements in sourcing technology over the last 5 years mostly delivered interesting new capabilities and use cases that can benefit negotiations. Electronic auctions and sourcing optimization have been around for decades, but the focus on ease of use makes them more accessible to broader audiences. Negotiation bots on the other hand give procurement a way to negotiate on a mass scale and create value in the tail spend.
Practical negotiation tips for Procurement
In this webinar, we shared practical tips and insights on classic negotiation tactics and how to use procurement technology to enhance the negotiation toolkit. Most importantly though, we explored how the combination of classic negotiation tactics and modern technology can create entirely new approaches to designing the negotiation environment.
Game-theoretic negotiation design is a powerful approach for bringing structure and data into the development of advanced negotiation strategies. Scenario-based thinking and the assessment of probable outcomes of different negotiation types allow Procurement to define a playing field that favors them.
Advance Procurement is focused on enabling Procurement organizations to fully leverage digital technology and (creative) insights to deliver improved business value, savings, operational efficiency, and stakeholder relationships. This webinar gives a glimpse of the tools we use to deliver on this promise and why we want to advance Procurement.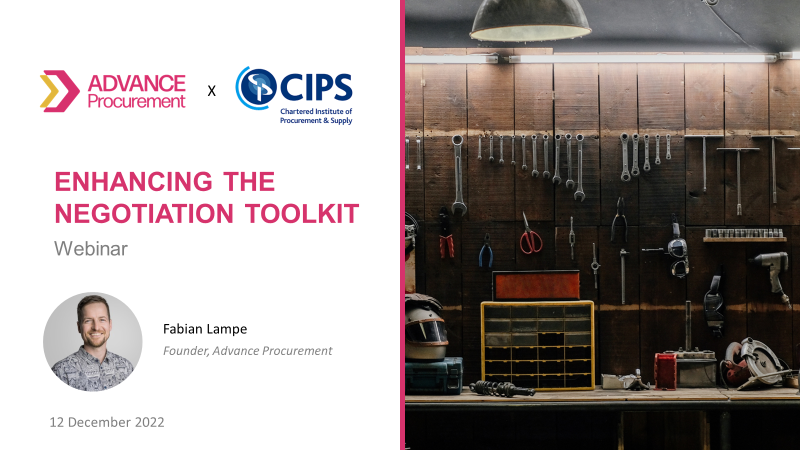 If you would like to discuss how we can help your organization create more value through negotiations or which technology might be best positioned to support your digitalization journey, please get in touch via our contact form.